The Worlds Longest Glasswalk.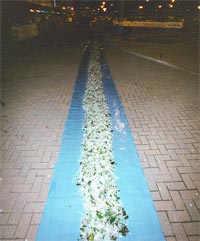 We have set the record for the Worlds Longest Glasswalk twice now.
The first time was in 2000 as a fundraising exercise for a favourite charity of ours, the Wishing Well Appeal (now known as the Wishes and Dreams Trust).
On that first occasion, four of our Blaze team walked a razor sharp path of one hundred feet of broken glass without any injury whatsoever.
To see the letters of evidence from the expert witness's of the Millenium event, please click on any of the links below:
The second occasion was as a profile raising exercise for another one of our long time clients, St Lukes Hospice in Essex.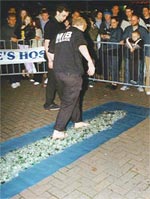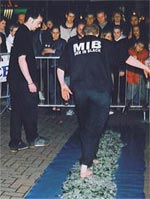 On this occasion, we beat our own record and stretched it to an amazing one hundred and twenty feet across broken wine bottles.
You are welcome to read the expert witnesses accounts of the 2002 by clicking on the links below:
(We could have gone much further but we thought we would save ourselves - after all, having all that glass to prepare and break really sucks!:-) )