The 'I'd do Anything' Glasswalk.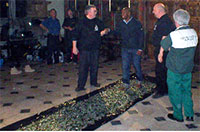 The BBC TV show called 'I'd do anything' was looking to ask one of its contestants to walk on both fire and broken glass as part of its sequence of international challenges recently.
They were seeking the most experienced experts in the world to represent them in this venture so when they asked their head of health and safety for the production, he said there was no way that event would be included unless it was facilitated by only one company.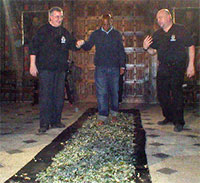 Naturally the first call they made was to Blaze.
We are always happy to work with the BBC once again and the whole segment ran like clockwork. So much so that the presenter for the show, Ian Wright, was persuaded by Martin Sterling to walk across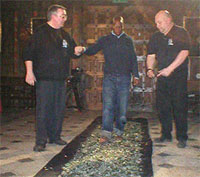 the bed of razor sharp broken glass himself.
These photos show Ian Wright being coached on the finer points of glasswalking by Blaze's head coach Martin Sterling while being assisted by one of his staff.
Ian was 'wowed' by the experience and even though he was nervous to begin with he understood that because Blaze were running the show, his ten million pound football playing feet were in safe hands :-)