Blaze On The Box Again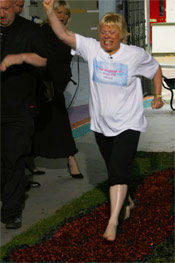 Very recently, the firewalking experts from Blaze were called in to play a part in a very exciting project on National Television.
The ITV show ''This Morning' has been working on a segment in their show which is dedicated to the empowerment of some of its viewers.
Thousands responded when they asked women to apply to take part in a remarkable challenge. Applicants wanted to do something positive for themselves following a traumatic period in their lives. They wanted to boost their self-esteem and turn their lives around plus raise money for the charities of their choice.
Over the next year, This Morning will film their challengers as they cycle across India, run The London Marathon and swim The English Channel in 'The Challenge Of Your Life'.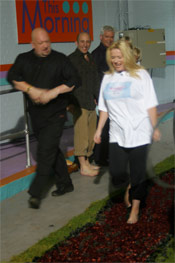 This Morning's experts, psychologist Anjula Mutanda, our old friend Life-coach Pete Cohen and councillor Helen Logan were involved in the intensive selection process and ten women were chosen that our experts felt could confront the physical, emotional and mental challenges ahead.
We were privileged to be invited to be a part of this venture by organising a firewalk for two of these brave participants.
Jill Lucus, 56 from The Isle of Man and Susie Stubley, 35, from Berkshire will accompany Fern Britton and cycle 390 kilometres through Rajasthan in India on 16th November. The cycle challenge will raise money for Robert Winston's charity The Women for Women Appeal which funds research to improve the health of women and babies.
Martin Sterling - head trainer at Blaze and THE most experienced firewalking expert in all of Europe - was personally invited to lead Jill and Sue through the demanding training which precedes the actual walking on hot coals.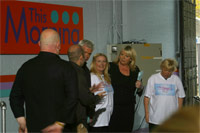 He reported that although both Jill and Sue initially had great reservations about treading the searing hot path - which was burning at over 1200 degrees f. - once they had undergone the mental preparation from Sterling they found it to be an exhilarating and exciting experience.
Martin Sterling - often referred to as the 'Simon Cowell of Firewalking' because of his precise and exacting standards and his 'call a spade a spade' approach -said he was very happy for both Sue and Jill and that he feels certain if they apply the lessons of their firewalk to their personal challenge experience, they will both emerge triumphant.
We here at Blaze wish them all the luck in the world!
To read Jills online blog, click here
To go to the 'This Morning' website to keep track of them, click here