The perfect gift for the person who has everything.
The gift of EXCITEMENT and a new way of viewing things!!!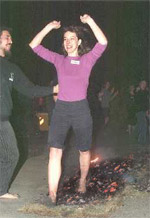 "The true voyage of self discovery is not to discover new lands, rather to see old lands with new eyes"
Looking for a challenge to s-t-r-e-t-c-h you in the new year? Want to rush in where angels fear to tread? Then look no further than a Blaze 'Hot Ticket' as the ideal Gift Experience Voucher to excite, scare and amaze yourself and others with!
This is ideal for the 'dare-devil' in your life. Remember what they say "If you are not living on the edge, you're taking up too much space!".
A Blaze 'Hot Ticket' is valid for twelve months and can be used at any of the half a dozen open events that we have booked in 2006 here at our Headquarters in Nottingham.
Each event at our HQ is personally taught by Blaze's head instructor Martin Sterling and ran by the
in-house team of expert fire builders that we use on our hundreds of jobs all over the UK!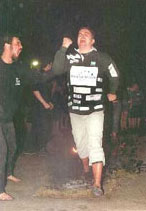 • Maybe you want to experience an original Blaze firewalk but don't presently feel able to engage it as a sponsored event?
• Perhaps you have already walked with us at one of our many events before and this time want to bring a friend and warp them in the same way? :-)
• Or you did not belive it the first time and want to savour that moment again?
• Could be that you have done a firewalk with some other instructor and now want to step up to the Blaze experience?
• Possibly you just want your 'firewalking battery' topping up again?
• Often our events are attended by fundraisers who wish to 'try before they buy' of course.
Whatever your personal reasons are we belive that its always a good time to walk across hot coals with Blaze!
"NEW FOR 2009!!! FREE FIREWALK EXPERIENCE!!!
If having attended an event on a Hot Ticket you subsequently book your own event with Blaze, not only will we credit the entire cost of your Hot Ticket against the final invoice for your event - we will also refund your travel expenses too thus making your Hot Ticket experience entirely FREE OF CHARGE!!"
To Learn More On How To Register For A Hot Ticket Click Here