New Year, New Opportunities!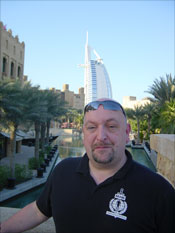 2006 has started in a heck of a rush for us here at Blaze!
While most of us were sitting down to dinner on Bank holiday monday, Martin Sterling was getting ready to do the strangest fire walking site survey he had ever done.
It started about 1.30pm on Christmas day with a call from our Blaze Rep in the Middle East, asking if Sterling could fly out on New Years Day to Bahrain for a week to meet some clients.
However the flight was via Dubai because they also wanted him to visit a location they had in mind for a firewalking event they were proposing to do on behalf of the international charity Red Crescent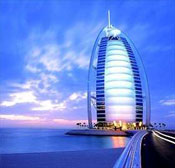 Little did he know that the location they had in mind was 321 metres above sea level on the heli-pad of the worlds only 7 star hotel, the incredible Burj al Arab!
The client had been browsing through our web site and realising we were up for presenting firewalking in interesting and unusual ways, had suggested that for their event we host the highest firewalk ever held on a man made structure!
Recently the heli-pad was used to promote the Dubai open tennis championships and Andre Agassi and Roger Federer had played a few sets up there on it so it is no stranger to publicity grabbing events.
To see photos of this event, click here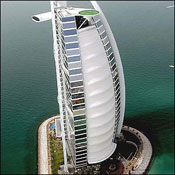 The site survey was a simple affair but in this time of heightened security he was not allowed to take any photos but just make notes on distance and pace it out on foot while he was there.
We are currently waiting to hear back to see if we are going ahead with this particular project but we think it would be great fun to be part of the team who ran the "highest firewalk in the world."
Watch this space for details...
Below is our projection of what our firewalk on the heli-pad might look like...