Block Bustin'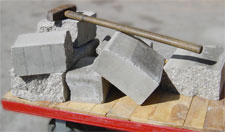 What is Blockbustin'? Its the practise of having a bull nosed concrete kerbstone broken across your stomach or your shins with a sledgehammer! No pain or injury with this event - if the Shaolin monks can do it, then you can too!!
Overcoming life's obstacles requires change, and change can happen in an instant - it only takes one moment and a committed decision.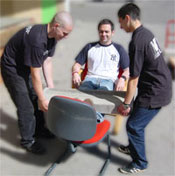 Dare to dissolve fear and other emotional blocks that keep you from living life to the fullest!
Are you troubled by embarrassing blocks, little fears, and worries? Crippled by procrastination, nagging doubt, and recurring fear?
Paralyzed by panic?
Does it keep you from functioning, or reaching your goals: a better relationship, a better job, more time or money to do the things you love?
If so, help is here. In just 2 hours, we can help you learn how to not only manage, but break through negative emotions that keep you chained to the status quo, and jump-start you on the road to living your dreams.
Sounds Impossible? Not If You Know How - and We Know How.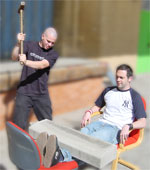 Block bustin'! is a liberation. A wake up call to reclaim your power by recognising that our 'limitations' are so very often unwittingly self selected and how we can move elegantly beyond those limitations when we choose to do so. Fear can control our energy.
Fear is a thing we create in our body as a response to certain thoughts. We can be masters of our minds when we choose to be and block bustin' reminds us of that power which resides latent within us.
By learning to bring our complete attention to what is happening inside our mind and by acknowledging and mastering our fears,
we can create new ways of responding so that situations are no longer perceived as negative but rather as a challenge we can rise to.
When we succeed in doing something we believed to be very difficult or actually impossible, it shows we have learned to step up, to break through our limiting beliefs.
The Block bustin' workshop provides the challenges and techniques to break the chains on your brains and achieve the seemingly impossible.